Photographer / Visual storyteller
KvK 30182322 / VAT NL001654162B78
Education
2004

Graduated with honours from the Academy of Arts Utrecht, Photographic Design.

1998

Graduated from the University for Professional Education Utrecht, Social and Legal Services.
Biography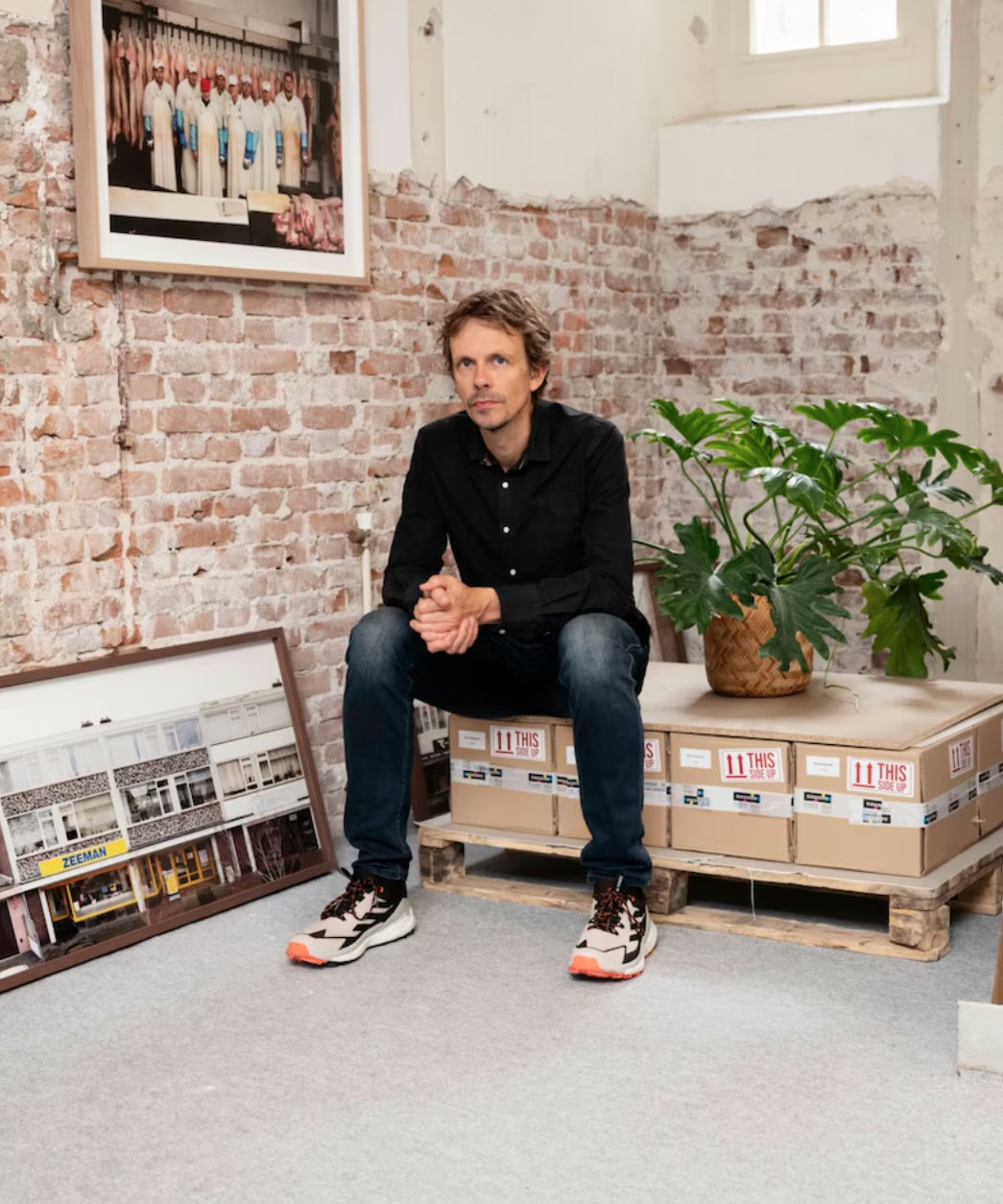 Rob Hornstra, born in 1975 in the Netherlands, is a Dutch photographer of predominantly long-term documentary projects, both at home and around the world. He has published several books of solo work, produced documentary series for a variety of international magazines, and taken part in numerous solo and group exhibitions in the Netherlands and abroad. In 2009, Hornstra and writer/filmmaker Arnold van Bruggen started The Sochi Project, culminating in the retrospective book An Atlas of War and Tourism in the Caucasus and an exhibition that toured Europe, America, India and Canada. He is the founder and former artistic director of FOTODOK – Space for Documentary Photography. Four times per year he runs a popular live talkshow about photo books in his home town Utrecht.
Publications
2021

The Europeans - The Naval Base (Self-published)

2020

The Europeans - The Former Capital (Self-published)

2017

Man Next Door (Self-published)

2015

An Atlas of War and Tourism in the Caucasus (Aperture, New York)

2013

An Atlas of War and Tourism in the Caucasus (Aperture, New York)
The Secret History of Khava Gaisanova (Self-published)

2012

KIEV (Self-published)
Life Here is Serious (Self-published)

2011

Sochi Singers (Self-published)
Safety First (Self-published)

2010

One Day (Kehrer Verlag)
Empty land, Promised land, Forbidden land (Self-published)
On the Other Side of the Mountains (Self-published)

2009

Sanatorium (Self-published)
101 Billionaires - Crisis Edition (Self-published)

2008

101 Billionaires (Self-published)

2006

Roots of the Rúntur (Self-published)

2004

Communism & Cowgirls (Self-published)
Awards
2021

Zilveren Camera Storytelling Award

2014

Dutch Doc Award
Zilveren Camera Storytelling Award

2012

Sony World Photography Award
World Press Photo Award

2011

Magnum Expression Award
Zilveren Camera Storytelling Award

2010

New York Photo Book Award

2007

GD4ART International Competition

2004

Dutch Photo Academy Award
Exhibitions
2020

Breda Photo
Kaunas Gallery (solo)

2018

Centraal Museum, Utrecht (solo)

2017

Rijksmuseum Twenthe, Enschede
FotoForum, Bolzano (solo)

2016

Cech Art Space, Minsk (solo)
EFTI, Madrid (solo)
National M.K.Ciurlionis Museum, Kaunas (solo)

2015

Indira Ghandi National Art Gallery, New Delhi (festival)
Klovićevi Dvori Gallery, Zagreb (festival)
CFD, Barcelona (solo)

2014

Center for Contemporary Art, Warsaw (solo)
Stedelijk Museum, Amsterdam (group)
Aperture Gallery, New York (solo)
Contact Gallery, Toronto (solo)
Noorderlicht Galerie, Groningen (solo)
DePaul Art Museum, Chicago (solo)
Fotohof, Salzburg (solo)

2013

Huis Marseille, Amsterdam (solo)
FoMu, Antwerp (solo)

2012

Foto8, London (UK)

2011

Third Floor Gallery, Cardiff (UK)
Flatland Gallery, Utrecht
Freelens Gallery, Hamburg (Germany)
SiFest Savignano (Italy)
Workshops Do-It-Yourself Storytelling
2019

Warsaw, Poland

2018

Valencia, Utrecht

2017

Bolzano, Luxembourg, Bristol

2016

Minsk

2015

New Delhi, Utrecht, Zagreb, Barcelona

2014

Brighton, Cortona, Dublin, New York, Vienna

2013

London, Toronto